About Hanna Truck Line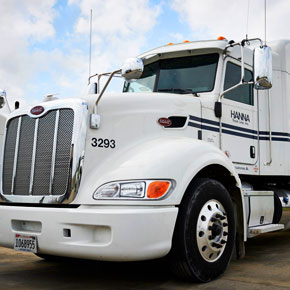 Click Here to Learn More

»
One of the ways Hanna Steel differentiates itself from its competitors is by owning and operating our own fleet of trucks. In our industry, we know you need your product delivered on time and without damage. Our late model, fuel efficient fleet has what it takes to meet the most demanding of deadlines, affording you peace of mind in meeting your inventory or distribution requirements.
Hanna Truck Line (HTL) is headquartered in Tuscaloosa, Alabama, with trucking operations located in Tuscaloosa and Fairfield, Alabama. We offer a group of well-trained professional drivers, and pride ourselves in our phenomenal safety record, as well as having some of the best CSA scores in the industry.
We also offer the latest technology to track your load should the need to quickly locate your shipment present itself. Hanna's commitment to harnessing synergies of both companies provides you with the best products for manufacturing, as well as providing the best solutions for your transportation needs.
At Hanna Truck Line, we understand we've not satisfied you until your delivery needs are met. That's why we employ only quality people to deliver quality products.